I just did some online quizzes. These are a bit geekier than your average on-line quiz. Anyway, here are the results.


Which OS are You?


Which File Extension are You?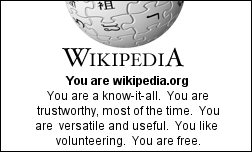 Which Website are You?
I like the third result, can kind of understand the first, but was a bit shocked and annoyed by the second. Ah well. They're just silly quizzes anyway.
End Post
Writing time: 1 minute
Time since last post: 2 days
Current media: iTunes shuffle of all the track 7s - currently Polka Power! by Weird Al